Made this tonight and it was great.  
Cafe Delites - for good food lovers
sheet pan lemon Parmesan garlic chicken & veggies (Milanese)
oven baked and crispy sheet pan lemon Parmesan garlic chicken & veggies is a complete dinner, with potatoes and green beans smothered in a garlic butter sauce!
Sheet Pan Lemon Parmesan Garlic Chicken & Veggies… All on the one pan? How easy?!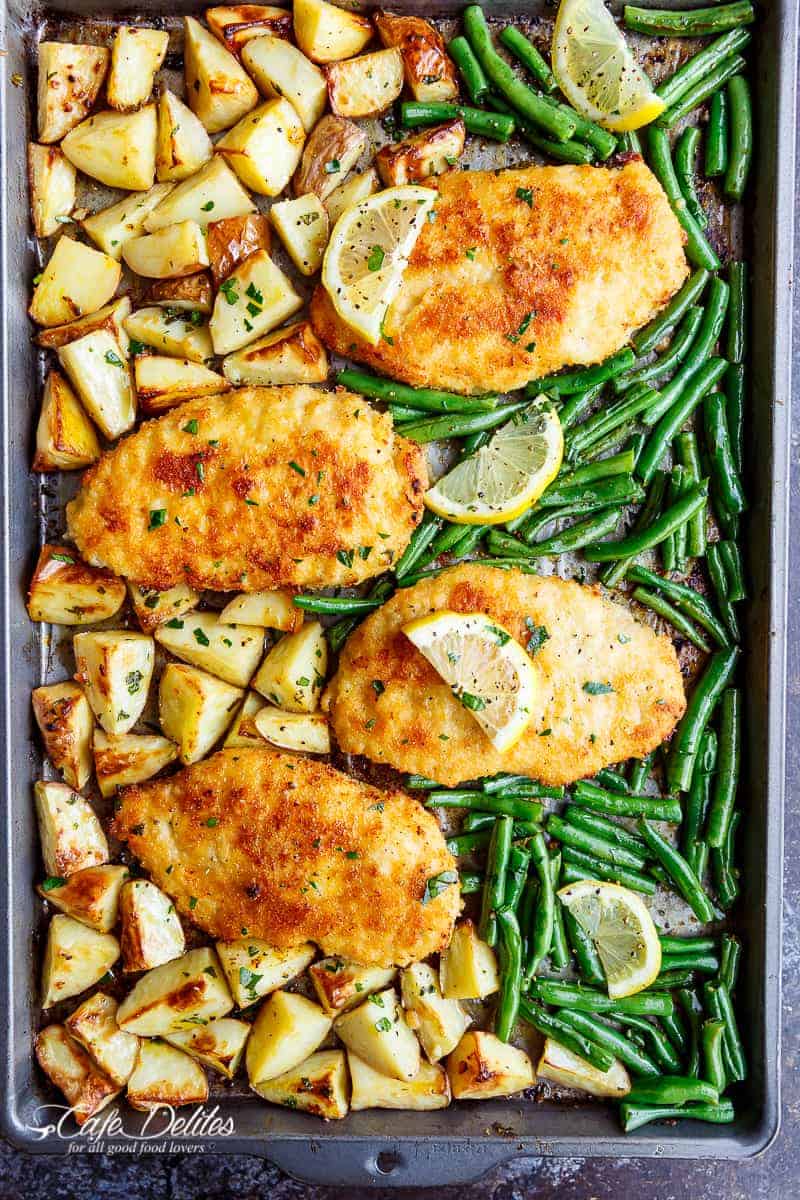 Throw your frying pans out the window for this one. Crispy, golden, crumbed or breaded chicken fillets (also known as milanese, schnitzels, or how we call them in our lives: MILANESAS), save a hell of a lot of calories being baked instead of deep fried, but TASTE deep fried.
I mean, who says you have to stand around the stove, deep frying crumbed chicken, with oil spitting all over the place and possibly burning off our eyebrows? Not me. This crumbed chicken (aka Milanese) is our favorite weekend dinner, one my mother is famous for in her house. You should all know I begged and pleaded with her to allow me to share it with you all (just kidding, she pretty much shoved the recipe in my face happy to share).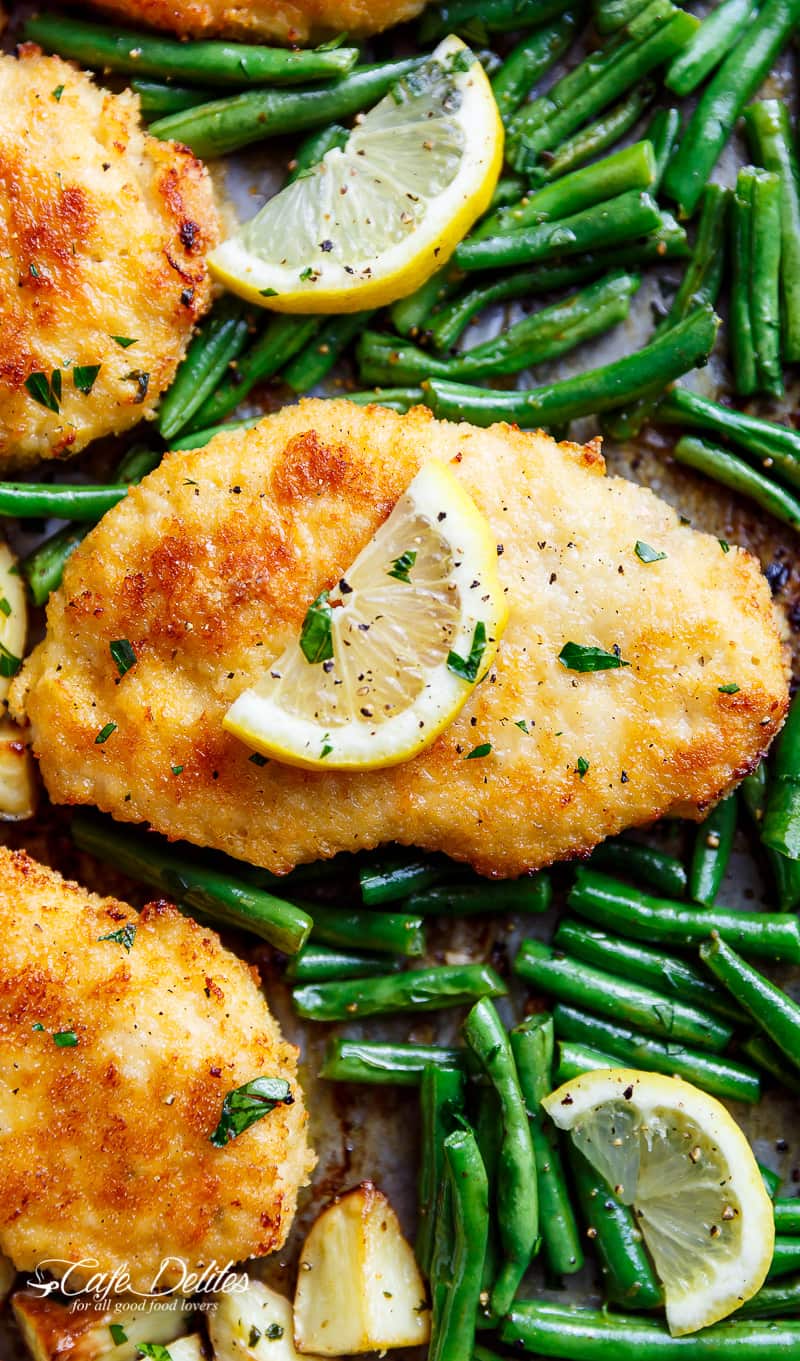 The one thing she does differently with her breaded chicken is she doesn't use flour. And believe me, you don't miss it one bit.
First, she whisks together her eggs with garlic, parsley, and salt (and while she wasn't looking, I poured in some lemon juice — ssssh). THEN, she coats each fillet with a breadcrumb and Parmesan mixture. Genius flavors, right?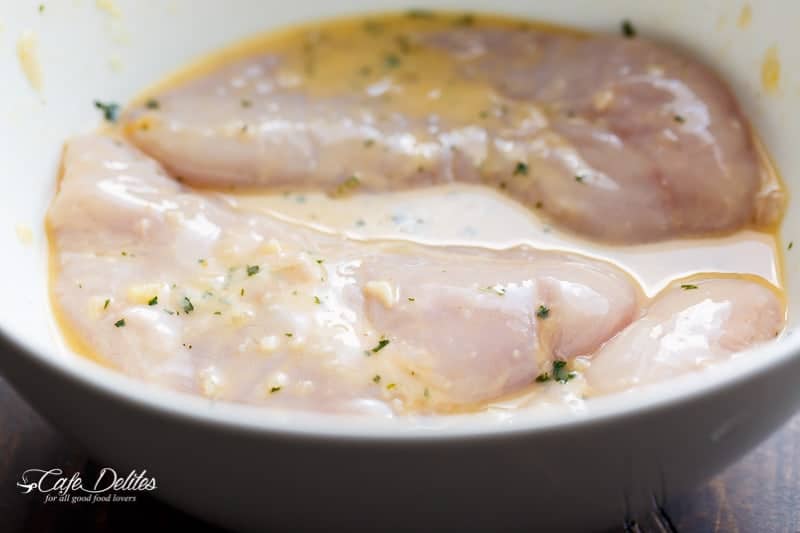 From there, she bakes them in her oven for about 20-25 minutes, and out come the most tender-crisp and juicy milanese / milanesas. You can substitute breast for chicken thighs.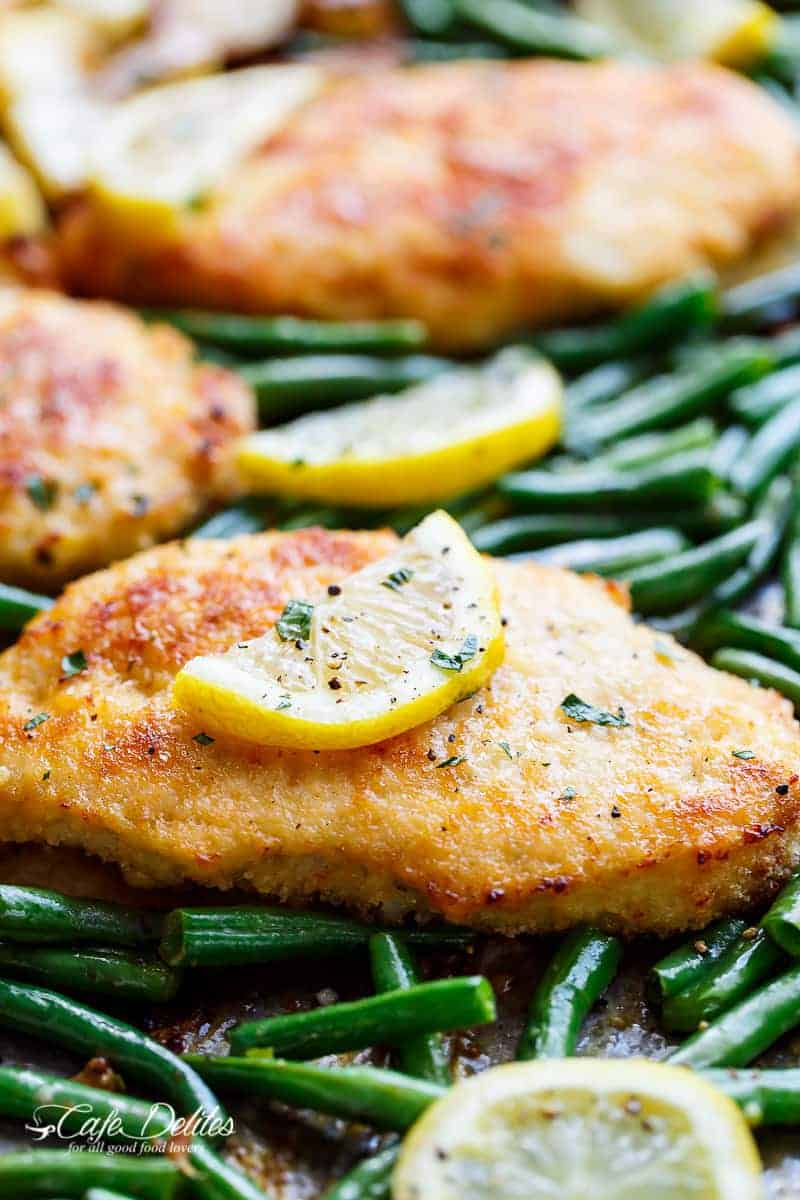 The reason I sneaked in some lemon juice is because we ALWAYS squeeze juice over the chicken once they're done. This way, there's no need to do that — just EAT.
Potatoes and green beans drizzled in garlic butter complete the meal… all baked on the same pan!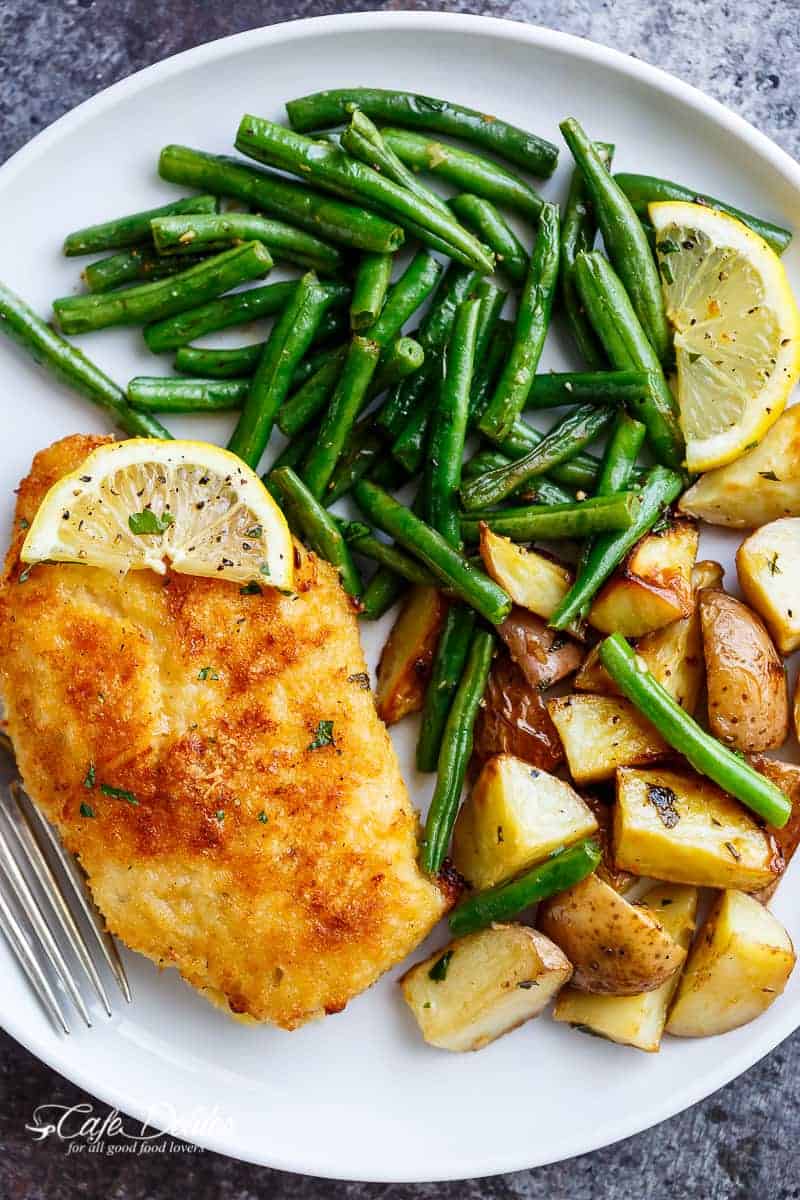 Crispy Sheet Pan Lemon Parmesan Garlic Chicken & Veggies Sheet Pan Dinner. You're welcome.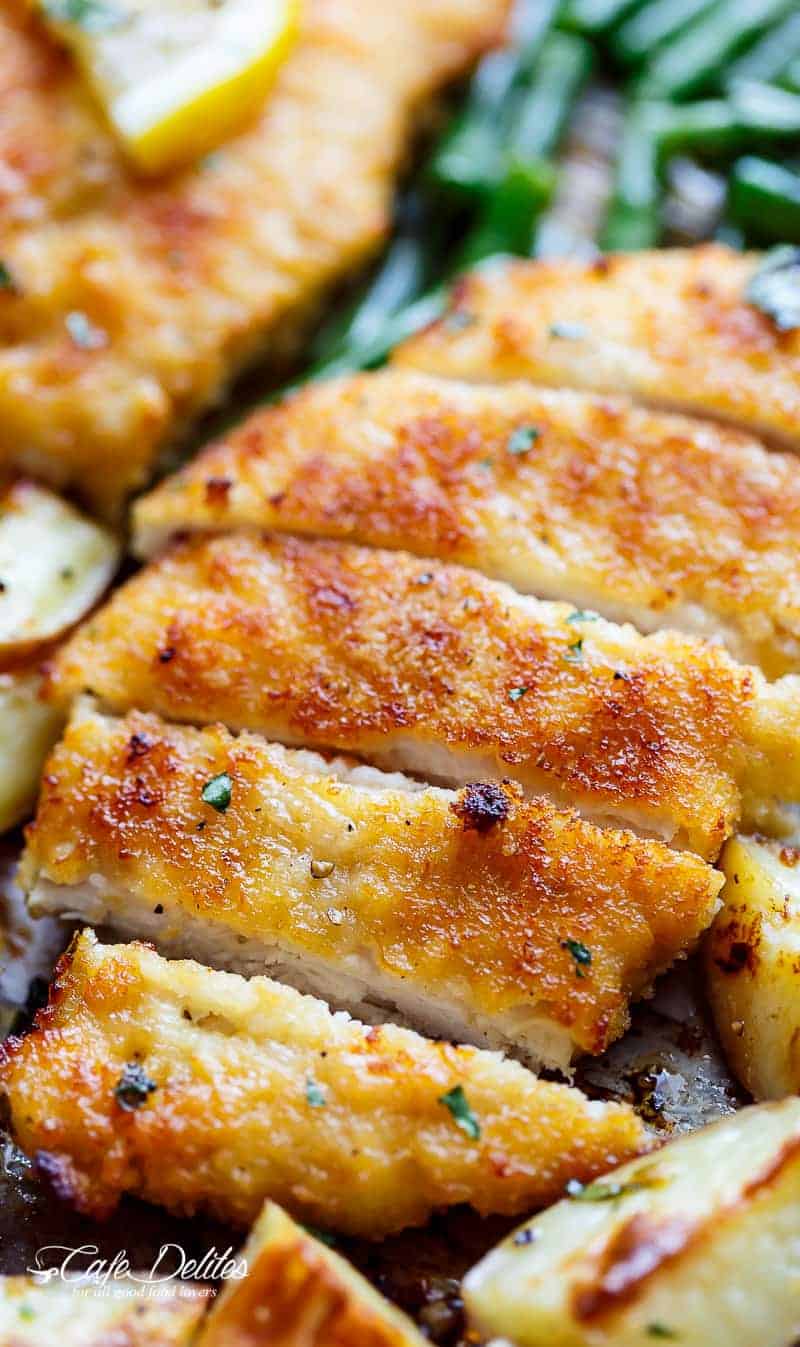 4.63 from 16 votes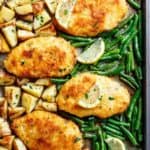 Print
Crispy Sheet Pan Lemon Parmesan Garlic Chicken & Veggies (Milanese)
Oven Baked Sheet Pan Crispy Lemon Parmesan Garlic Chicken & Veggies is a complete dinner with potatoes and green beans smothered in a garlic butter sauce!
A CAFEDELITES© ORIGINAL RECIPE
Servings:
4
Author: Karina - Cafe Delites
Ingredients
For The Chicken:
1 large egg
2 tablespoons lemon juice (or juice of 1/2 a lemon)
2 teaspoons minced garlic
1/2 tablespoon fresh chopped parsley
1/2 teaspoon each salt and pepper , to season
1/2 cup breadcrumbs
1/3 cup fresh grated parmesan cheese
4 skinless , boneless chicken breasts (or thighs)
For The Veggies:
8-10 (1 pound | 500 g) baby potatoes, quartered
1/2 cup butter , melted
2 teaspoons minced garlic
salt to taste
1 pound | 500 g green beans , cut into thirds
Instructions
Preheat oven to 200°C | 400°F. Lightly grease a baking tray / sheet with cooking oil spray, or a light coating of oil. Set aside.
In a large bowl, whisk together the egg, lemon juice, 2 teaspoons garlic, parsley, salt and pepper.
Dip chicken into egg mixture, cover and allow to marinade in the refrigerator for 30 minutes to an hour (if time allows).*
In another bowl, combine the breadcrumbs with the parmesan cheese.
Dredge the egg coated chicken in the breadcrumb/parmesan mixture, lightly pressing to evenly coat.
Place chicken onto the baking sheet / tray and lightly spray with cooking oil spray. Arrange the potatoes around the chicken in a single layer. Mix together the butter, 2 teaspoons garlic and salt to taste, and pour half of the butter mixture over the potatoes. Toss to evenly coat.
Bake in preheated oven for 15 minutes.
Remove baking tray from the oven and flip each chicken breast. Move the potatoes to one side and place the green beans around the chicken on the other side of the baking sheet. Pour over the remaining garlic butter and return to the oven to broil (or grill) on medium-high heat for a further 10 minutes, or until chicken is golden and crisp, and potatoes are cooked through.
Sprinkle with fresh chopped parsley (optional), and serve immediately.
Recipe Notes*The chicken develops a deeper flavour when marinaded in the egg mixture, although if you don't have time, you can omit this step.
© 2017 CAFE DELITES. All rights reserved. All images & content are copyright protected. Please do not use my images without prior permission. If you want to share this recipe, please provide a link back to this post for the original recipe.